Finished Rae Carson's
Girl of Fire and Thorns
yesterday. Wow. That is one complex book! And I mean that in a positive way. :)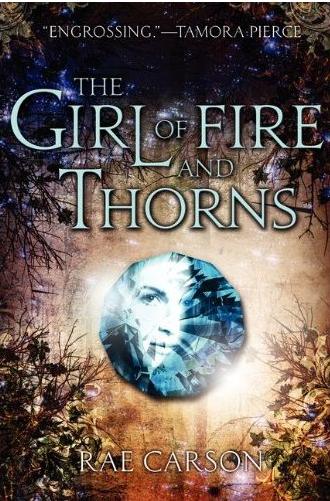 Elisa is Chosen. For what she doesn't know, just that is it God's plan. She soon discovers that destiny can knock in the most unexpected of ways and will not be denied.
Carson has crafted a world rife with all the social, religious and geopolitical intricacies one would find in a real place. Characters are multifaceted and will surprise the reader more often than not. Reader beware: surprises are not limited to character development and there are several twists in this novel that will have readers tensed and unable to put the book down. Even with all the details in place Carson manages to create a novel of high fantasy that maintains a fast pace. Looking forward to the next book in the trilogy.
Would I read more titles by this author?
Yes
Recommended for:
ANY reader looking for high fantasy.
You'll like this if you enjoyed:
Cinda Williams Chima's
Seven Realms
series, J.R.R. Tolkien's
Lord of the Rings
, or
Graceling
by Kristin Cashore.